Did you know that Alligator Dental sees babies for dental appointments starting at 6 months old? This may seem a little early, as babies may not have many teeth at 6 months. However, plaque does not care the how old you are! Buildup begins as soon as teeth erupt. It is important that plaque removal and proper tooth care also begin at this time to prevent early-childhood tooth decay.
This initial 6-month visit will help establish a solid foundation of dental health for baby. In addition to a gentle cleaning Alligator Dental doctors screen for rare oral abnormalities found in infants. We also provide educational coaching to parents to help establish a healthy dental foundation, including:
Gum care
Teething
Transitioning to a toothbrush
Decreasing transmission of bacteria from parent to baby
One tip we give parents is to keep those tiny gums and teeth clean, every day!  A great way to start is to use a moistened square of gauze, or clean washcloth, wrapped around the parent's finger. Gently massage the teeth and gums to remove plaque and bacteria. In addition to removing bacteria, this activity will help baby adjust to having their mouth clean. This will help make the transition to a toothbrush much easier – for baby and parent!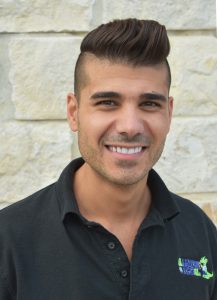 Dr. Anas Hakimeh