Floresville – Meet The Doctors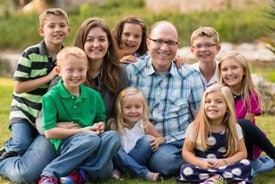 Dr. Al Burns
Dr. Al Burns received his Certificate in Pediatric Dentistry from Ohio State University and Nationwide Children's Hospital in June 2009. He then became Board Certified in 2010. His education included advanced studies and specialized training in dentistry for children, adolescents, special needs, and medically compromised patients. His training also focused on sedation, anesthesia dentistry, and interceptive orthodontics. He received his Master's of Science Degree from Ohio State University.

Dr. Burns graduated from the University of Nebraska Dental School in 2007, and he received his Bachelor's Degree from Utah State University in 2003. He directs all dental services at Alligator Dental, including providing prophylaxis and dental care treatment.

Dr. Burns loves children and has seven of his own with Lisa, his wife of seventeen years. In addition to his family and pediatric dentistry, other passions include football, fishing, and fireworks.