Why See A Pediatric Dentist?
Pediatric dentists (or pedodontists) are qualified to meet the dental needs of infants, toddlers, school-age children, and adolescents.  Pediatric dentists are required to undertake an additional two or three years of child-specific training after fulfilling dental school requirements.
In addition to dental training, pediatric dentists specifically study child psychology.  This enables them to communicate with children in an effective, gentle, and non-threatening manner.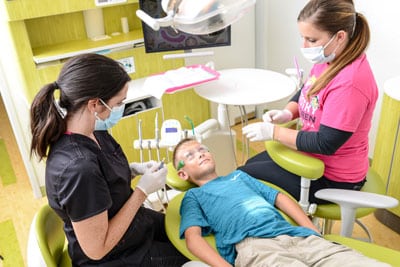 Pediatric oral care has two main components: preventative care at the pediatric dentist's office and preventative care at home.  Though infant and toddler caries (cavities) and tooth decay have become increasingly prevalent in recent years, a good dental strategy will eradicate the risk of both.
Parents should take children to see a pediatric dentist for the following reasons:
To ask questions about new or ongoing issues.
To discover how to begin a "no tears" oral care program in the home.
To find out how to implement oral injury prevention strategies in the home.
To find out whether the child is at risk for developing caries (cavities).
To receive information about extinguishing unwanted oral habits (e.g., finger-sucking, etc.). 
To receive preventative treatments (fluorides and sealants).
To receive reports about how the child's teeth and jaws are growing and developing.
How can a pediatric dentist care for my child's teeth?
A pediatric dentist will examine the teeth for signs of early decay, monitor orthodontic concerns, track jaw and tooth development, and provide a good resource for parents.  In addition, the pediatric dentist has several tools at hand to further reduce the child's risk for dental problems, such as topical fluoride and dental sealants.
During a routine visit to our office: your child's mouth will be fully examined; the teeth will be professionally cleaned; topical fluoride might be coated onto the teeth to protect tooth enamel, and any parental concerns can be addressed.  We can demonstrate good brushing and flossing techniques, advise parents on dietary issues, provide strategies for thumb sucking and pacifier cessation, and communicate with the child on his or her level.
When molars emerge (usually between the ages of two and three), the pediatric dentist may coat them with dental sealant.  This sealant covers the hard-to-reach fissures on the molars, sealing out bacteria, food particles, and acid.  Dental sealant may last for many months or many years, depending on the oral habits of the child.  Dental sealant is an important tool in the fight against tooth decay.
If you have questions or concerns about when to schedule your appointment with us, please contact our office.